MoneyWorks for Internet
---
Demo site:
You can log in trough our demo site into the test version to see the program in action.
Main features:
web based system, working in client-server mode
Centralised database, working in realtime
all you need to use it as a customer is an internet connection and a Web Browser
can be used on any kind of Web based devices
mobility in coducting transactions
intuitive and easy for use user interface
system configuration accorditg to the specific needs of the customer
Functional diagram:
The system is centralized, and the only needed DB+Web server is situated in the headquaters of the company.
The staff in the headquaters can use the MoneyWorks for Windows, version and to do the administration trough it when neededd.
Using MoneyWorks for Internet you are able to access your database trough any Web-based device.
The only things you need are internet connection and Web Browser.
Thus, the remote work with the system is fully in real time, and you have a moile access to it.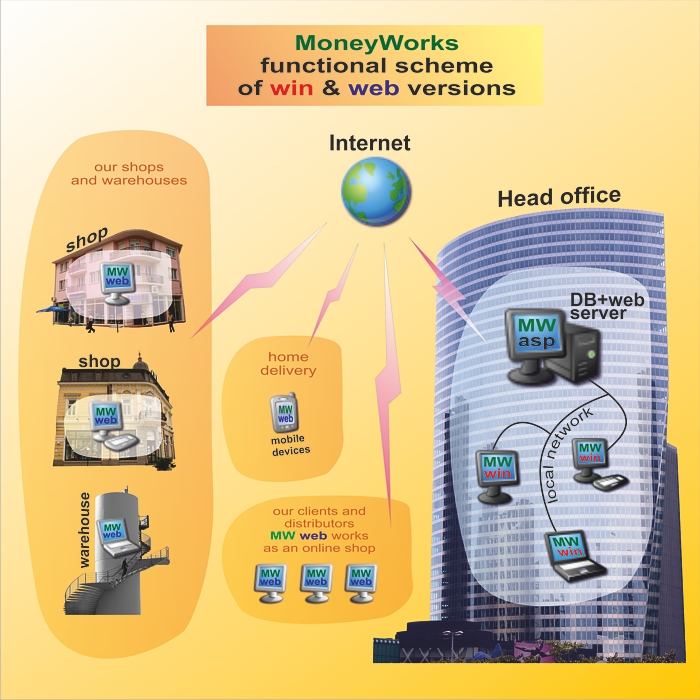 Requirments for installation of the system:
Hardware requirments

processor – working frequency minimum 1.5GHz
RAM memory – minimum 1GB (recomended 2GB)

Operationg system

Windows XP Professional or newer (recomended is Windows Server XXXX)
file system NTFS
IIS (Internet Information Server) installed

Internet requirments

real and static IP адрес
high quality internet connection – less than 1% packets loss
speed – minimum 512 KB/sec
An Example of the main screen
---